REAL VISTA Accounting
---
You will find at this collection a full range of icons designed to play with original Windows Vista colors and shapes. Their outstanding characteristics are a special care on details and very realistic shapes that goes in a great way with your Software applications. This set contains icons for financial activities and banking transactions (withdrawal, credit cards, wallet, spreadsheet, forms, taxes and more) appropriate for developping more efficient accounting programs interface (Helisa, SIIGO, BPCS, or any application running on Windows, Mac or other graphic platforms that support standard image file formats) with practical buttons for habitual tools) or web sites dedicated to online transactions and money exchange. There is also a full set of adds-on that expands its functionality (add, remove, save, configure and more).
Sizes:
256x256, 128x128, 72x72, 64x64, 48x48, 32x32, 24x24, 16x16 pixels
Formats:
PNG-GIF-ICO-BMP
Color Depth:
WinXP 32 Bits
Color States:
• Normal: Normal color • Hot: Contrasted Colors, useful in rollovers, active buttons • Disabled: Gray Scale colors, useful in inactive buttons.
Icons Preview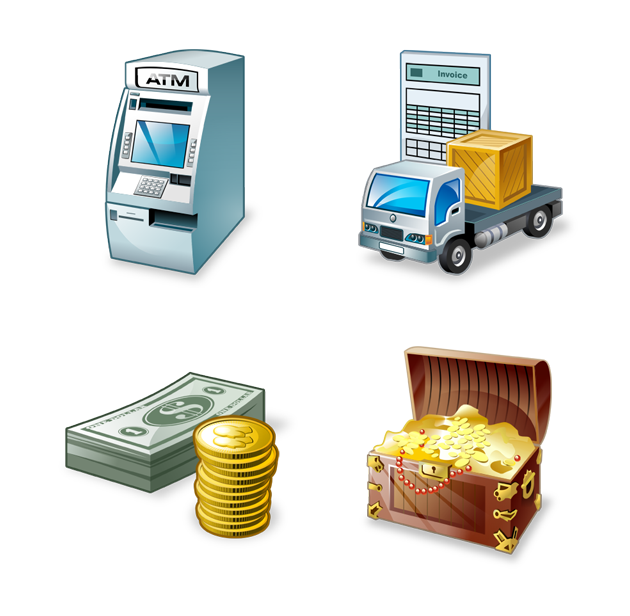 Get all our collections. Expand
.

More than 2 million individual icons
all grouped in 770 sets with vector source files.

.

All icons area editable in their respective source file.

.

990+ templates and counting.

.

100.000 design elements.

.

350+ wordpress themes always up-to-date with latest wp version.

.

400+ pre-designed Wordpress and HTML themes.

.

support 24/7

.

Weekly updates